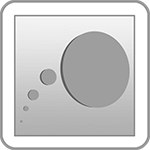 Specific Heat
Direct measurement of specific heat
The Specific Heat Capacity Module is suitable for measurements on all solid/semi-solid materials with not too low a thermal conductivity. The measurements are made with a specially designed sample holder: a sensor with an Au-cell attached. To measure, put the sample inside the Au-cell and insulate the setup with Styrofoam. The only requirement regarding the sample is that it should have a reasonably flat contact surface. 
Specific heat module comes with room temperature sensor, which can be upgraded to special 300°C sensor if needed. 
Specific Heat Module is intended for studies of the specific heat capacity of solid materials. The size of the samples can be varied but it should fit into a copper holder with an inside diameter of about 25 mm and a height of 8 mm. 
In this experimental method the samples are – during the transient recordings – kept inside a thermally insulated holder or enclosure made of a material with high thermal conductivity. The holder is exposed to a constant output of power from a Hot Disk sensor, which is permanently attached to the holder. The experiment is carried out over a period of time which is long compared with the time it takes to establish non-varying temperature gradients inside the holder and sample assembly. During heating, the temperature is continuously recorded by following the resistance increase of the sensor. Indications from series of measurements are that it is possible to thus obtain the specific heat of solid samples with an accuracy of a few percent. 
The process of measuring the specific heat of small samples with the Specific Heat option is based on two individual measurements. 
1. Reference measurement. In this measurement, the sample holder without the sample is heated during a certain time interval, in order to acquire information about the heat capacity of the sample holder itself at steady (almost linear) temperature increase, and the heat losses (very small) which simultaneously occur to the surroundings (Polystyrene). This measurement must be performed prior to measurements with the actual sample. 
2. Sample + Sample Holder measurement. In this measurement, a sample is placed inside the sample holder, which is heated during a time interval equal to that of the corresponding reference measurement, assuming identical surroundings, i.e. initial temperature and heat insulation surrounding the sample holder. It is recommended to use a slightly higher output of power in the measurements with a sample compared with the corresponding reference measurement, to compensate for the higher heat capacity when the sample is present.
| | |
| --- | --- |
| Specific Heat Range: | up to 5 MJ/m3K |
| Temperature: | -160°C to 400°C |
| Thickness Range: | 0.01 to 100 mm |
| Minimum Dimensions: | 1 mm diameter or square |
| | |
| --- | --- |
| Specific Heat Range: | up to 5 MJ/m3K |
| Temperature: | -160°C to 400°C |
| Thickness Range: | 0.01 to 100 mm |
| Minimum Dimensions: | 1 mm diameter or square |
| | |
| --- | --- |
| Specific Heat Range: | up to 5 MJ/m3K |
| Temperature: | -160°C to 400°C |
| Thickness Range: | 0.01 to 100 mm |
| Minimum Dimensions: | 1 mm diameter or square |
| | |
| --- | --- |
| Specific Heat Range: | up to 5 MJ/m3K |
| Temperature: | -160°C to 400°C |
| Thickness Range: | 0.01 to 100 mm |
| Minimum Dimensions: | 7 mm diameter or square |