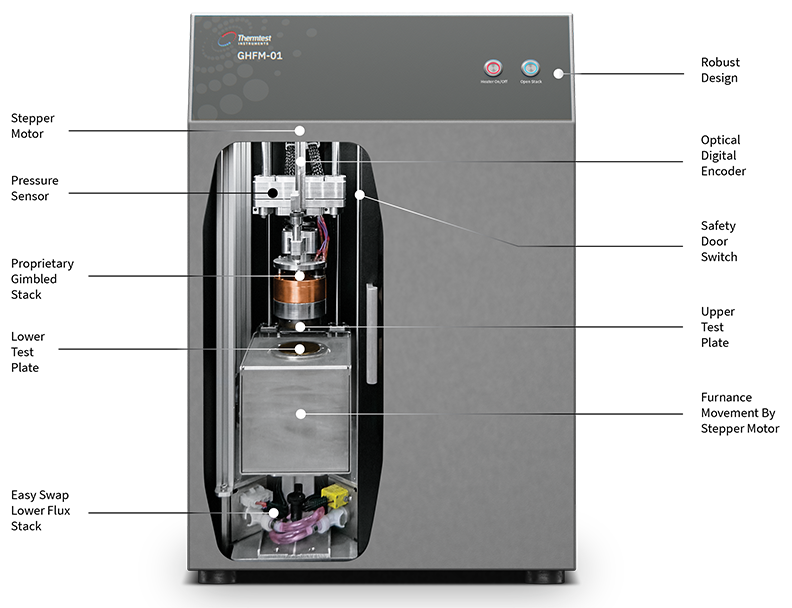 The advanced GHFM-01 is a primary measurement of thermal resistance­—thermal conductivity for solids, such as metals, polymers, composites and paste. Specifically, the calculation of thermal conductivity from measurement of thermal resistance is the most accurate method of testing the true thermal conductivity of heterogeneous materials. The steady-state measurement of thermal resistance represents the full sample thickness and mature heat transfer properties.
According to the method, the sample is subjected to a steady-state through-thickness temperature gradient. The thermal conductivity of the sample is obtained by measuring the temperature difference across it, and one additional temperature.
The testing stack is made up of a heater – upper plate, with integrated temperature sensor and heat sink—lower plate with integrated temperature sensor on each side of the sample. Additional temperature sensors are placed near the top and bottom surface of the sample.
Once steady-state temperature across the sample is achieved, the Fourier law equation can be applied. The ratio RS (m2•K/W), equal to the thickness of the sample, d (m) to its thermal conductivity, λ (W/m•K), can be obtained from the temperatures measured:

The above equation is linear in form, and is the working equation of the instrument. Constants F (m2•K/W) and Rint (m2•K/W), can be obtained by calibration of the instrument. To this effect, calibration samples of known thermal conductivity and hence, thermal resistance, are employed. Calibrated results for thermal resistance and thermal conductivity are reported.