TPS theory states that the non-linear section of temperature rise vs time, known as contact resistance has to be removed, so the intrinsic thermophysical calculations are based on the linear region of transient. This can be done manually by iteratively removing start points till best fit is achieved. Although this is a suitable approach, it does take an experienced user to reduce errors and achieve required repeatability.
The contact resistance between the sensor and sample is dependent on the quality of the sample surface. When manually removing the contact resistance a small number of points (step 1) is removed and newly calculated for best fit analysis. If the resulting residual mean deviation can be improved, more points (step 2) can be removed and calculation steps repeated.
Raw Data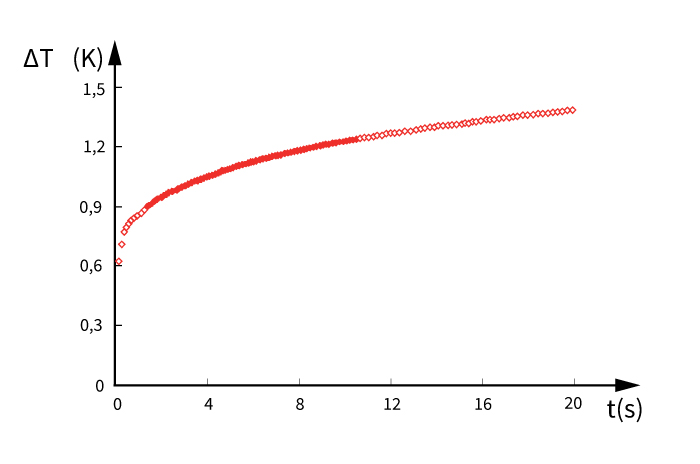 Calculation Data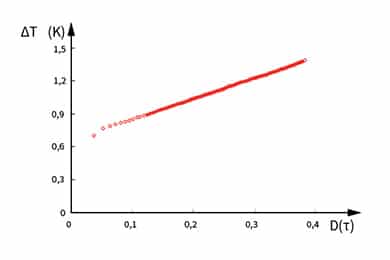 Residual Data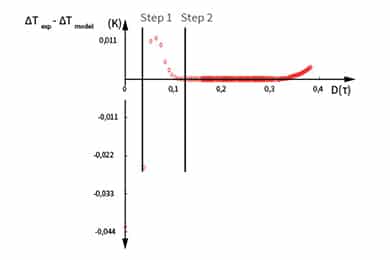 Alternatively, using our proprietary Contact Analysis (CA), the MP-1 is able to calculate the contact resistance (m²K/W) between sensor and sample, automatically removing the corresponding start time. In addition to better understanding the effects of surface finish on your measurements, this greatly simplifies the analysis for the intrinsic thermophysical properties.
Demonstrating the application of the contact analysis measurement, four samples of stainless steel 316 with different surfaces were measured for thermophysical properties. As the MP-1 is able to measure contact resistance, selection of the calculation window is greatly simplified, maximizing repeatability of the intrinsic properties of the sample as the surface roughness increases, the measured contact resistance also increases.
Stainless Steel 316
Surface Finishes
Surface Roughness
Ra (um)
 
Contact Resistance
(m²K/W)
Conductivity
(W/m·K)
Diffusivity
(mm²/s)
Volumetric Specific Heat
(MJ/m³K)
Effusivity
(W√s/m²K)
Polished
0.101
Mean
1.00E-04
13.80
3.73
3.70
7149
%RSD
6
0.1
0.4
0.3
0.2
Machined
0.324
Mean
1.54E-04
13.93
3.75
3.71
7194
%RSD
1
0.1
0.3
0.2
0.1
400 grit
0.516
Mean
1.32E-04
13.84
3.74
3.71
7163
%RSD
2
0.1
0.3
0.3
0.1
80 grit
2.78
Mean
2.41E-04
13.85
3.73
3.71
7171
%RSD
1
0.02
0.2
0.2
0.1