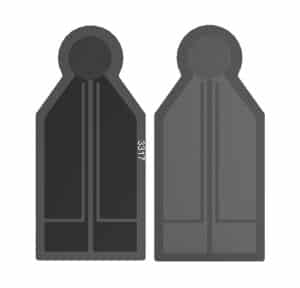 The MP-1 with TPS Method has a large number of TPS sensor diameters available for measurement of solids, pastes and powders. Generally, the sample should be at least two times the sensor diameter and thickness of the sample greater than the same sensor radius. It is always best practice to use the largest sensor you can for your sample.
Every TPS Sensor can be used in double-sided (Symmetric or Mirrored) configuration. The TPS sensor is sandwiched between two samples with one flat side each. Additional configuration is single-sided (Asymmetric), where the TPS sensor is sandwiched between one sample piece and one insulation piece of known thermal conductivity and thermal diffusivity. Properties of the known insulation can be easily measured with the TPS Method and used to test unknown materials.
Also available is a permanently assembled TPS Single-Sided Sensor for convenient testing large hard to handle samples, without the requirement of two pieces of sample.
TPS Two-Sided Sensors available on the MP-1
Max Temp (°C)
(Air Environment)
Max Temp (°C)
(Inert Environment)