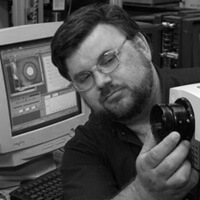 Dr. Ralph B. Dinwiddie
Dr. Dinwiddie has maintained a wide research scope over the years, focusing most of his efforts on measuring the thermophysical properties of condensed matters. Dinwiddie graduated from Stockton University in 1983, with a Bachelor of Science Degree in Applied Physics. He then went on to the University of Delaware, where he received an MS and a Ph.D. in Physics. Dinwiddie has since served as a Research Scientist for the Oak Ridge National Laboratory for 27 years. With this position, Dinwiddie controls and processes high-speed infrared imaging and video, while also measuring and mapping thermal diffusivity of condensed materials, using the flash technique. For his efforts in the field of thermal transport, Dinwiddie was awarded the Thermal Conductivity Award in 2007. In 2013, Dinwiddie, along with his colleagues, received the R&D 100 Award, recognizing the 100 most technologically significant products introduced in 2013, for the development of the SYMMETRIX HPX-F Nanocomposite Separator, for improved safety and thermal stability of the lithium ion battery.
Most Cited Thermal Conductivity Works:
Selection of Work by Dr. Ralph B. Dinwiddie
High‐Thermal‐Conductivity Aluminum Nitride Ceramics: The Effect of Thermodynamic, Kinetic, and Microstructural Factors
Journal of the American Ceramic Society, 80(6): 1421-1435. (1997)
Jackson, T. B., Virkar, A. V., More, K. L., Dinwiddie, R. B., and Cutler, R. A.
Thermal properties of zirconia co-doped with trivalent and pentavalent oxides
Acta Materialia, 49(1): 169-179 (2001)
Raghavan, S., Wang, H., Porter, W. D., Dinwiddie, R. B., and Mayo, M. J.
Thermal diffusivity study of aged Li-ion batteries using flash method
Journal of Power Sources, 195(3): 872-876. (2010)
Nagpure, S. C., Dinwiddie, R., Babu, S. S., Rizzoni, G., Bhushan, B., and Frech, T.
The effect of graphite flake morphology on the thermal diffusivity of gray cast irons used for automotive brake discs
Journal of Materials Science, 34(19): 4775-4781. (1999)
Hecht, R. L., Dinwiddie, R. B., and Wang, H.
Reliability of laser flash thermal diffusivity measurements of the thermal barrier coatings
Journal of Thermal Spray Technology, 9(2): 210-214. (2000)
Wang, H., and Dinwiddie, R. B.