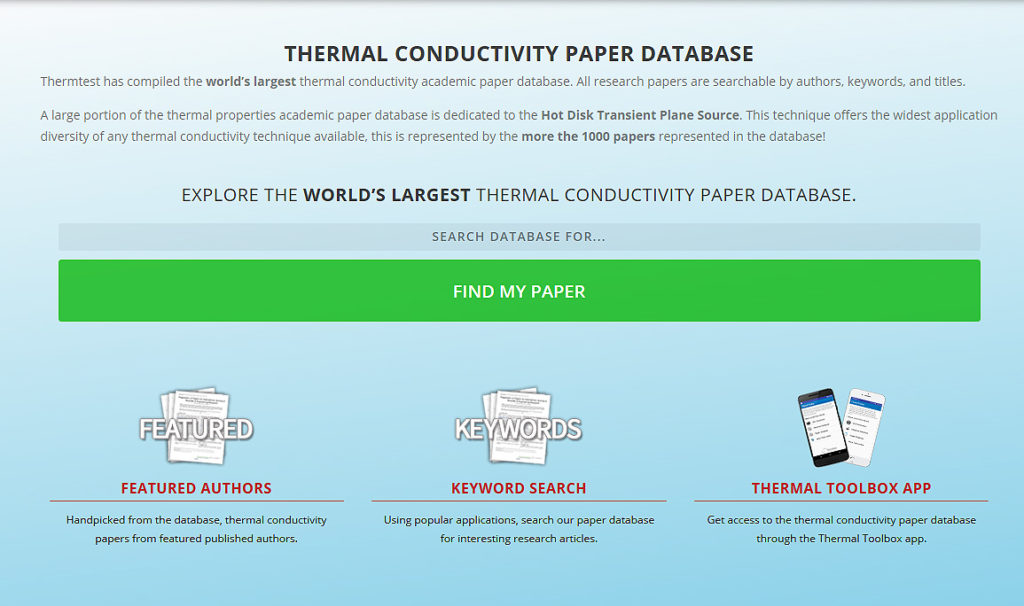 Announcement: Thermtest's Thermal Conductivity Paper Database Has Expanded with the Addition of 50 New Academic Articles
Thermtest is happy to announce the addition of 50 new research papers to the world's largest thermal conductivity academic paper database! With a focus on materials for electronics cooling, article topics range from expanded graphite composites to porous silica ceramics, using the
thermal conductivity analyzer
with transient plane source method. All papers are searchable by authors, keywords, and titles, which makes finding the right paper for you easy!
Come explore the world's largest thermal conductivity paper database!
Check out Thermtest's staff picks:
A Study of Thermal Conductivity of Boron-Nitride Epoxy-Matrix Composites
European Conference on Composite Materials (EECM): 15, 2012
K. Gaska, A. Rybak, Cz. Kapusta, R. Sekula, A. Siwek
Thermal conductivity, Transient plane source(TPS), epoxy resins, boron nitride, epoxy composites, epoxy
Having one of the lowest thermal conductivities of all known solid materials, this conference paper assesses the possibility of using filler particles to increase the thermal conductivity of filled epoxy resin. With the effective use of graphs, tables, and photos to explain the experimental procedure and results, the author formats his research in a way that is organized and straightforward, making it an engaging read!
Measurement Techniques for Thermal Conductivity and Interfacial Thermal Conductance of Bulk and Thin Film Materials
Journal of Electronic Packaging (2016), 138(4): 1-64
Dongliang Zhao, Xin Qian, Xiaokun Gu, Saad Ayub Jajja, Ronggui Yang
bulk solid materials, thin films, thermal conductivity, thermal contact resistance, interfacial thermal conductance, laser flash method
This paper looks at some of the most commonly used measurement techniques for thermal conductivity and interfacial contact resistance of bulk and thin films materials. Contrasting the steady-state and transient methods, readers can compare the advantages and limitations of each technique and gain a better understanding of testing procedures and potential error sources.
Simultaneous measurements of thermal conductivity and thermal diffusivity of rock-marbles using transient plane source (TPS) technique
Heat Recovery Systems and CHP (1991), 11(4): 249-254
Izhar-Ul-Haq, N.S. Saxena, Silas E. Gustafsson, A. Maqsood
Thermal conductivity, Transient plane source(TPS), marble, thermal diffusivity, specific heat, stone, building materials
Using the transient plane source technique, marble samples were measured with the thermal conductivity analyzer and compared to results obtained from the transient hot strip method. Published in the 90's, readers will be able to learn about the theory and evolution of thermophysical properties measurements and appreciate the advantages of the TPS technique!
Or take a look at the full list of recently added articles: